PROGRAM NOTES
Richard Strauss (Munich, 1864 – Garmisch-Partenkirchen, 1949)
Metamorphosen for Two Violins, Two Violas, Two Cellos, and Bass (1945)
Richard Strauss lived a long, full life through vast sea changes both in music and the world at large. He was born into the Kingdom of Bavaria less than two decades after the deaths of Schumann and Mendelssohn, when Wagner had recently returned to Germany after a long exile, and before Brahms had even reached middle age. He lived through German unification, World War I, the Weimar Republic, the rise of the Third Reich and World War II, and finally, in his twilight years, the partition of Germany into east and west. He developed his lush Romantic sound under the influence of Wagner and maintained it through the entire turbulent first half of the 20th century, when experimentalism was the order of the day.
Affecting both his life and art, he lived through the vicious rise of anti-Semitism in Germany. As a devoted Wagnerite, he was associated with the movement from before Hitler was born, so perhaps it was natural that when Goebbels created the Reichsmusikkammer (Reich Chamber of Music) to promote Aryan music in 1933, Strauss was appointed president. Strauss wasn't a true believer, though. He seemed to think he could exist—apolitically, writing the music he wanted to write—while ignoring the disturbing trends around him. At some point, he must have realized that was impossible, probably between the loss of his position with the Nazis for insufficient zeal and when his Jewish daughter-in-law was nearly deported to a concentration camp. Even someone like Strauss, who weathered the Nazi regime in an undeniable position of privilege, couldn't help but be touched by the incredible loss and devastation that stretched across Europe by the end of the war.
Vienna State Opera, World War II
The 80-year-old Strauss began Metamorphosen ("transformations") in August 1944, broke off composition over the winter, and then finished the score in March and April 1945. Significantly, he began the final score on March 13, 1945, the day after the destruction of the Vienna State Opera, one of a number of cultural landmarks close to Strauss' heart that were destroyed in the war. A few weeks later he wrote in his diary, "The most terrible period of human history is at an end, the twelve-year reign of bestiality, ignorance, and anti-culture under the greatest criminals, during which Germany's 2,000 years of cultural evolution met its doom." Near the end of the score, Strauss wrote the words "IN MEMORIAM!" under a quotation from Beethoven's Eroica Symphony, which Beethoven inscribed "in memory of a great man." Strauss may well have meant "in memory of a great culture." Indeed, the tone of the work is nostalgic—Strauss' naturally anachronistic style perfectly fits the wistfully remorseful nature of the piece.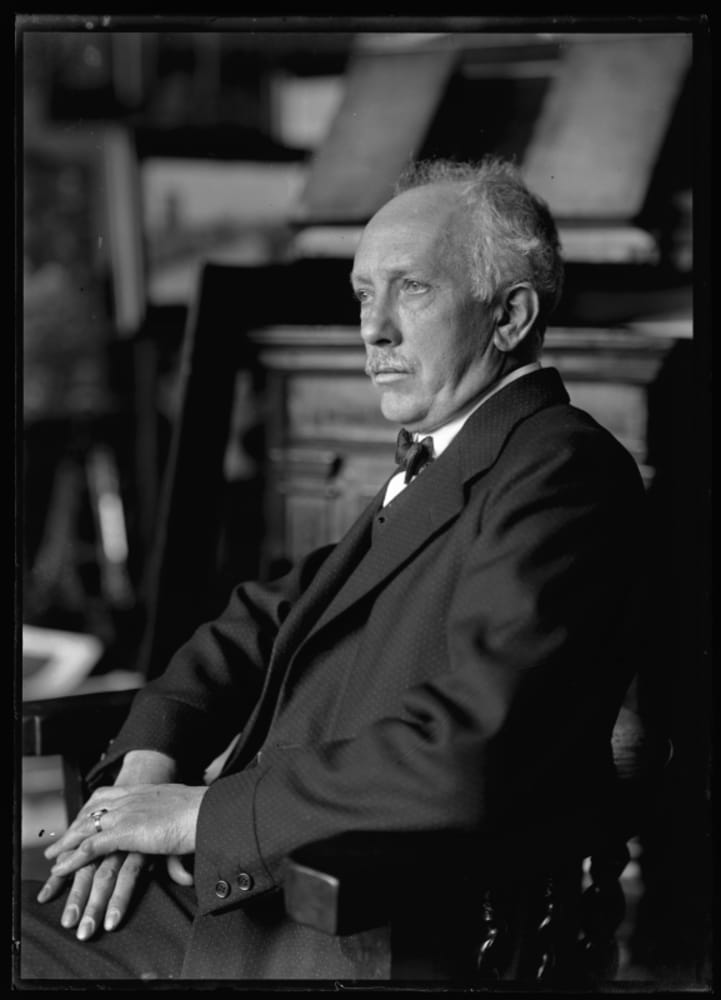 Strauss' original version is for 23 solo strings but in 1990 a short score came to light of an early version for string septet. Cellist Rudolf Leopold restored that early version in 1994.
RICHARD STRAUSS (1864-1949)
Metamorphosen for Two Violins, Two Violas, Two Cellos, and Bass (1945) (program notes)
PROGRAM NOTES
Wolfgang Amadeus Mozart (Salzburg, 1756 – Vienna, 1791)
Quartet in C major for Strings, K. 465, "Dissonance" (1785)
Adagio-Allegro
Andante cantabile
Menuetto: Allegro
Allegro molto
The string quartet genre underwent a remarkable evolution in the 1780s in the hands of Haydn and Mozart. Haydn kicked off the decade with his Op. 33 set of six quartets, saying they were written in "a new, quite special way." Not only did they show a deeper control over the musical materials and a fresh sense of playfulness, but they were also some of his first works published under a new contract with his employer, Nikolaus Esterházy. Haydn knew the Op. 33 quartets would be some of his first works to be officially distributed (his previous scores had circulated widely in bootleg copies and he was eager to finally make some money), so he carefully devised them to be some of his most path-breaking, appealing, exciting works—and they were. Mozart, recently moved to Vienna and quickly establishing himself, was so impacted by Haydn's Op. 33 quartets that he wrote his own set of six and dedicated them to his "best friend" Haydn. Haydn heard them in early 1785 and told Mozart's father, "Before God and as an honest man I tell you that your son is the greatest composer known to me either in person or by name…"
This quartet is the last of Mozart's "Haydn" quartets (completed on January 14, 1785 according to Mozart's catalogue) and the most famous. Its nickname "Dissonance" comes from the introduction, where the instruments enter one-by-one, creating harmonies that were grindingly dissonant by the standards of the time. After the surprise of the introduction, the movement takes off in a solid, bright C major with Mozart giving all four instruments intricately independent parts. In the second movement, Mozart starts with a few simple motives. After building slowly, the music takes on added ornamentation and complexity until finally, in an echo of the introduction, the three upper strings enter in turn, rising to a dissonant suspension far from the F major tonic. The last two movements, a minuet and sonata-rondo in C major, continue in the expertly crafted style of the first two movements. With themes that sound both natural and intricately worked out, they end a fitting tribute to Mozart's mentor and friend, the father of the string quartet.
The Orion String Quartet
By Tristan Cook
Notes by Laura Keller, CMS Editorial Manager
© Chamber Music Society of Lincoln Center
WOLFGANG AMADEUS MOZART (1756-1791)
Quartet in C major for Strings, K. 465, "Dissonance" (1785) (program notes)